Ancient Wisdom Modern Magic; Sedona:
Journey of the Spirit Healer™ TBD
"To actualize your True Self - Your Purpose - you must awaken from the Dream!"
---
Sample Sedona Training:
Opening Ceremony: Saturday
Training: Saturday - following Friday
Tuition Covers:
6 1/2 Day Workshop
Training Materials
Field Trip to Places of Power (Transportation Included)
Sunrise and Sunset Ceremonies
Special Guest Speaker

---
Why attend the Journey of the Spirit Healer™?
Many today have a longing for a deeper connection not only to themselves but to their Soul, to Spirit and to Nature. We seem to have forgotten that we are always connected!
In ancient and the indigenous societies we lived in balance with the earth, ourselves and Spirit. We connected and worked with the land and the animals. Many were tuned in to the whisperings of other souls, both alive and departed.
As society developed we began to feel a loss of that connection, but deep inside us is a knowing…a knowing that there is more than what we are experiencing and that the answers may be in the ancient teachings and ourselves.
Our next Ancient Wisdom Modern Magic
will be dates TBD in Sedona with the Journey of the Spirit Healer™

This 6 1/2 day, highly experiential workshop will
encompass many of the shamanic techniques from
Lessons of the Shamanic Masters™ as well as
other modalities.
---
People want to:
Connect to self, connect to Spirit, and connect to community
Work with the inherent magical energies of the universe

Feel like they are part of the Whole

Understand the subtle energies behind the everyday

Connect with the part of themselves that's able to manifest magic in an everyday manner
---
What You'll Learn:
---
How is Journey of the Spirit Healer© Structured?
Journey of the Spirit Healer© is a highly experiential workshop. You'll practice everything you learn in exercises and experiences involving the entire group, small groups, one-to-one and individually. There will be time each day for meditation and guided visualization as well as your own personal exploration.
The workshop will be held in Sedona, Arizona….
a place of natural energy enabling you to connect with the elements in our surroundings.
There will be a field trip to places of energy and power during the training to enable you to connect and experience highly concentrated energies of the planet. When possible we will conduct both a sunrise and sunset ceremony and ritual.
---
Who are the trainers on Journey of the Spirit Healer©?
Debra Fentress will be the lead trainer during the training. Debra is a Master Trainer of Neuro Linguistic Programming, certified Hypnotherapist and certified Spiritual Counselor. Debra has studied with Hank Wesselman (author of Spritwalker), with Helen Bangs, Kumu Etua Lopez, Uncle George Naopi, Maori shaman and her own American Indian ancestors. She was a trainer for Advanced Neuro Dynamics, an international training company as well as their head of Sales and Customer Relations. She has also taught Wicca in Europe and Hawaii. As a child brought up with hereditary pagan practices and additional heritage from American Indian ancestors, Debra has been living shamanism her whole life. She is known for leading seminars which not only impart information to the student, but also give the student the experiential component needed to take the information outside of the seminar setting. Debra is also the author of Have Wicca Will Travel, and contributing author to Your Soaring Phoenix and Shamanic Transformations: True Stories of the Moment of Awakening.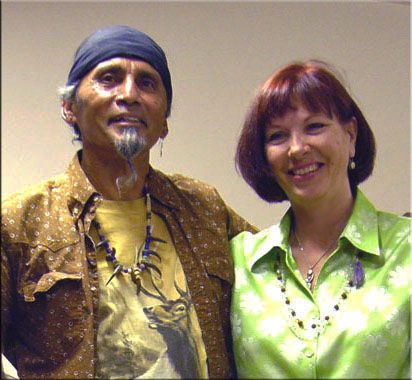 Other trainers you will have the opportunity to learn from will be:
Sun Dancer "George"
One of the few living original style Sun Dancers. George has been working with the Indian youth to assist them in living the "truth".
Due to our guest's schedules, we cannot guarantee any particular guest attendance
---
So, what if I attend Journey of the Spirit Healer©, what then?
You'll understand the universe we live in and your purpose for being here. Many peoples experience with the ancient wisdoms gives them a greater sense of themselves and how they create their reality.
Your life will take on a new meaning as you gain the knowledge of the connectedness to all things and people. You'll find a greater awareness of your surroundings and others as well as intuition from within.
Instead of feeling alone, you'll find you "walk in the footsteps of the Ancients before you" carrying their knowledge forward.
Join us TBD for 6 1/2 days of immersion into the ancient healing energy of the shamans, medicine women and spirit healers
---
Contact us to find out more about the Journey of the Spirit Healer© Sedona workshop
6 1/2 day Intensive Workshop and 1 day experiential Energy Day
---
Note: We have the right to make partial changes to the stated itinerary. We will do our best to keep changes to a minimum.
Travel Insurance: we strongly recommend you purchase travel insurance. We do not provide travel insurance and therefore you will assume any financial loss associated with your travel plans.
Please note flights and accommodation are not included.
---
Efforts are made to keep the integrity of the teaching as close to the original ways as feasible. Where possible, we will bring in a local shamanic healer, preferable someone of an indigenous tribal descent to share their knowledge and experience with us.
You will experience your own healing journey as well as learn skills and techniques to work with others. Five of the days will be spent in learning, experiencing, meditation and practice of the techniques. One day will be devoted to a field trip to "places of power".
Cancellation/Refund Policy:
Our specialized experiential workshops are kept to a certain number of people for your benefit. Canceling or rescheduling makes it very difficult for us because we must reserve workshop space far in advance of the training. We know that sometimes circumstances prevent your ability to attend and we make every effort to make the situation a win/win for all.
Therefore:
90 + days from start of workshop—full refund minus $500.00 non-refundable fee which is applicable to any future workshop
60-90 days from start of workshop—50% refund and other half applicable to any future workshop
0-60 days from start of workshop—full credit applicable for future workshops